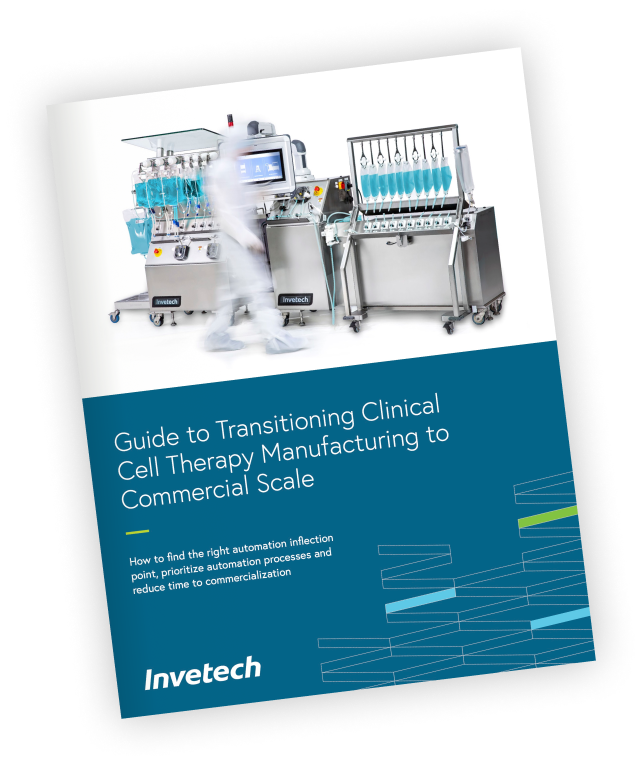 Guide to Transitioning Clinical Cell Therapy Manufacturing to Commercial Scale
How to find the right automation inflection point, prioritize automation processes and reduce time to commercialization.
In cell and gene therapy (CGT) manufacturing, manual processes pose a bottleneck to high throughput and carry a higher risk of operator error and batch contamination.

Scaling manufacturing to support hundreds of patients in a phase III trial instead of a dozen patients in a phase I requires moving from manual processes to closed, integrated and automated systems.

But when exactly is the right automation inflection point? And how can CGT developers prioritize automation processes?
In this white paper, we cover:
Automation strategies for CGT manufacturers

A manufacturing roadmap to help improve manufacturing efficiencies

How to identify and prioritize which processes should be automated first

How to save time and money in QC activities through release by exception

Building a robust cell and gene therapy supply chain to support your automated processes
Let's create tomorrow's cell and gene therapy solutions
Invetech helps cell and gene therapy developers to visualize, strategize and manage the future. With proven processes, expert insights and full-spectrum services, we swiftly accelerate vital, emerging therapies from the clinic to commercial-scale manufacturing. Together with our partners, we expand the reach of next-generation medical advances that are revolutionizing healthcare. Learn more at invetechgroup.com