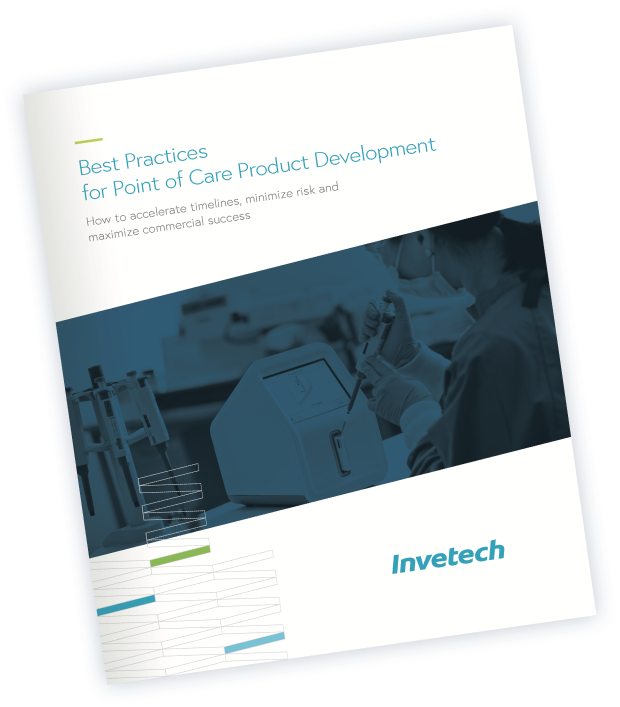 Get the Guide: Best Practices for Point of Care Product Development
Learn how to accelerate timelines, minimize risk and maximize commercial success.
Point of Care (POC) technologies are becoming smarter, more widespread and tackle an increasingly complex array of diagnostic needs. They are quickly transforming the landscape of healthcare. However, this important diagnostic tool also poses unique product design challenges for developing platforms that provide rapid, reliable, fit for purpose test results.
In this guide, we share best practices and proven approaches gained from developing more than 30 POC platforms so you can make informed decisions that will enable commercial success.
Download the guide to learn:
Are lab-equivalent results required for Point of Care?
Solutions for overcoming common design challenges
Why size matters—shrinking technology for POC system requirements
Strategies to decrease costs (instrument and consumable, scale-up and manufacturing)
Scale-up planning approaches and best practices
Tips for solving common commercialization challenges
Quality Assurance and Quality Control considerations
A track record in diagnostic product development
Invetech blends creativity, commercial know-how and technical acumen to help companies like you bring new POC diagnostic products to market. We've completed over 3,000 design and development projects for companies ranging from innovative startups to top healthcare brands, so we understand what it takes to translate your ideas into successful products. Learn more ›